Looking for a fun activity for your playgroup or your family? Consider hosting a kids' cooking party! We hosted one on a recent sunny spring weekend and the little chefs (all aged 6 and under) had a blast learning the recipe and assembling their creations. Take a look at how it all came together!
Upon arrival, we had a table with nametags (since not everyone knew each other previously -- we had a great mix of family, fellow mom-preneurs, and friends) and supplies for two crafts for the kids to make while we got everything set up.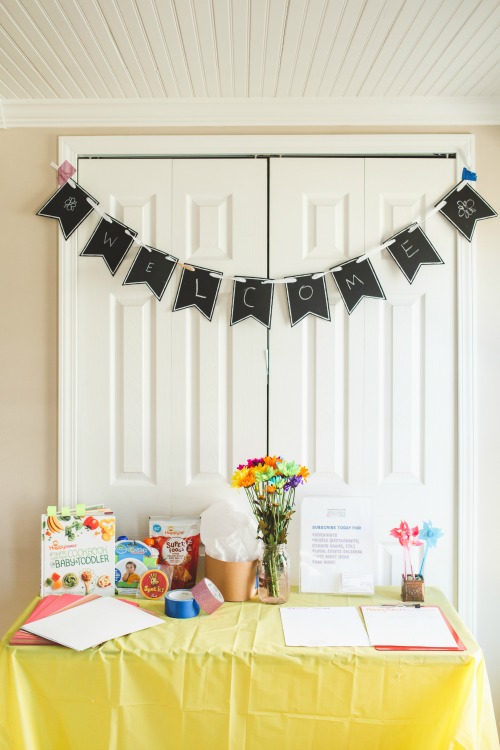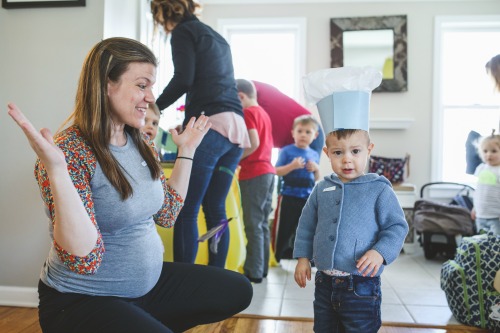 Craft #1: Easy-peasy Chef Hats. Tissue paper + construction paper = a fun and easy chef hat, which you can customize by decorating the construction paper band before putting it all together! 
Craft #2: DIY Placemats. Another easy and customizable project -- decorate a piece of paper and cover in clear contact paper. (Just make sure you actually buy clear contact paper. I bought white by accident -- oops! It made for a nice backing on the placemats, but the fronts won't sustain many meals). 
You can find directions for each craft on our Pinterest board here.
What's a cooking party without snacks? Just like you don't want to grocery shop hungry, cooking hungry is a good way to find a lot of ingredients go missing along the way! Thankfully, our sponsor, Happy Family, provided a ton of yummy, kid-friendly (and many allergy-friendly) snacks to enjoy, alongside the Banana Quinoa Chocolate Chip Muffins and Avocado-Melon Smoothie we had prepped ahead of time. (I was skeptical about both -- but oh. my. gosh. SO delicious!)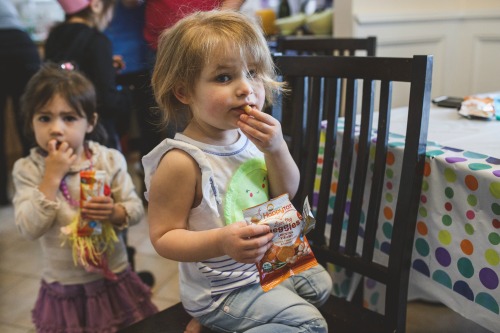 To share with our kiddos and babies, Happy Family provided yumminess that included:
​HappyBaby Clearly Crafted puree pouches for Stage 2 eaters in flavors that included Apples, Kale & Avocados; Apples, Pumpkin & Carrots; and Sweet Potatoes, Mango & Carrots. All pouches are transparent so you can see what is inside, and are certified USDA Organic.
HappyBaby Organic Teethers gentle teething wafers in pea & spinach flavor. Perfect for sitting babies who are exploring solids and cutting teeth, the teething wafers are soothing on baby's gums and dissolve easily with no mess.
HappyBaby Superfood Puffs made for crawling babies (but also a favorite with toddlers and preschoolers). The puffs are gluten free and contain choline, which supports brain and eye health. Made with veggies, fruits and grains, the puffs are also certified USDA Organic. 
HappyBaby Organic Yogis yogurt bites. These are organic yogurt bites that have been freeze-dried, making them into little treats that melt in baby's (or your!) mouth. Perfect for babies who are practicing self-feeding, all the way up through older kids who need a snack on the go.
HappyTot Soft-Baked Oat Bars. If you have kids who are constantly grabbing for cereal bars and granola bars, you can feel good about giving them these fiber, protein and whole-grain-rich snacks. The whole grains include the entire grain seed, ensuring the most nutrients from the grain are packed into these bars. We tried both the Organic Apples & Spinach and the Organic Bananas & Carrots versions and our little taste-testers were in love!
HappyTot Love My Veggies Chickpea Straws in Organic Cheddar & Spinach and Organic Sweet Potato & Rosemary flavors. The newest addition to the Happy Family lineup, the chickpea straws provide organic vegetables and legumes in handy single-serve packs. Each pack contains 75% vegetables and have no sugar and no added sugar.
HappyTot Super Smart Multi-Grain Alphabet Snacks in Organic Vanilla Oat + Flaxseed and Organic Cinnamon Sweet Potato + Flaxseed versions. Beyond yummy organic ingredients, the snacks provide 160mg of Omega3 (ALA), an important nutrient for growing toddlers. You can even practice letter recognition and word building with these crunchy letters!
HappyTot Super Foods Puffed Ancient Grain Dino Snacks in Organic Kale, Spinach & Cheddar and Organic Tomato, Basil & Cheddar flavors. These fun little dinosaur treats are made with amaranth and quinoa, delivering 5g of whole grains and 25mg of choline to support growing toddlers.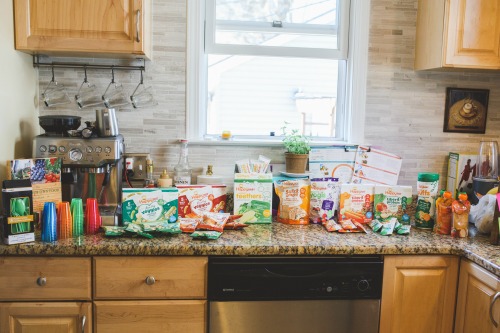 All of our recipes for the party came from the Happy Family Organic Superfoods Cookbook for Baby & Toddler, which you can grab here. While the cookbook (which was provided to us by Happy Family and given to one of our guests as a prize!) definitely has a ton of wonderful recipes for even baby's first purees, many of the soups, muffins, and more would be enjoyed by kids and adults of all ages.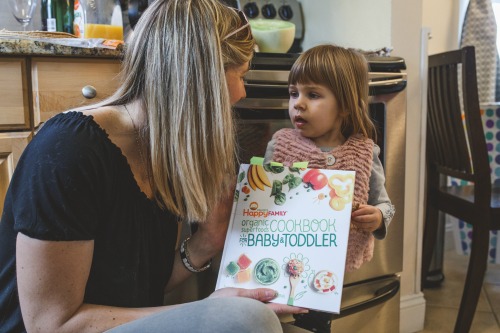 When all were gathered, we did a quick demo of the recipe. (You can see our re-do of the demo here on Facebook!) Then got the kids to cooking!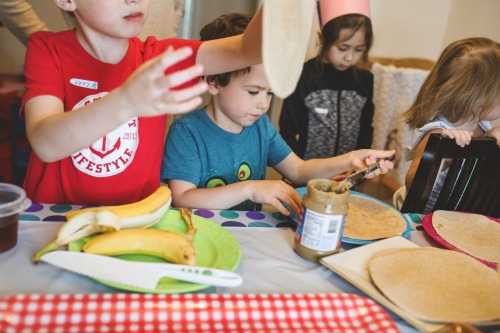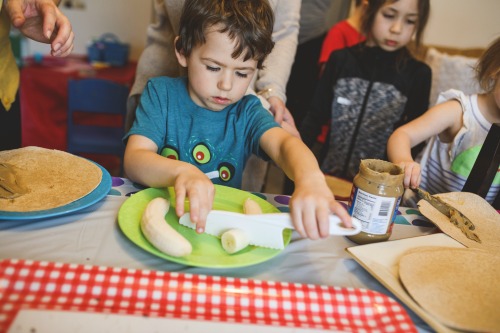 The central recipe for our gathering was Sunflower Seed Butter, Banana, Flaxseed and Maple Wraps. We set up an assembly line: grab a plate, put on a whole-wheat tortilla, spread sunbutter (like peanut butter but made with sunflower seeds) on one half of one side, sprinkle the sunbutter with ground flaxseeds, use our beloved kid-friendly knives to chop a banana half, place banana slices on top of the sunbutter and flaxseeds, drizzle with pure maple syrup, and fold the tortilla or roll up. You can serve as-is, or have a grownup place it on a quesadilla maker or George Foreman grill or on a skillet and heat it up.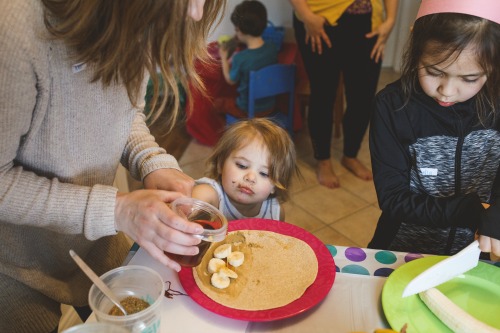 It was so fun to watch the kids work on their wraps and then work on eating them! There were many proud faces around the kitchen. Gathering together to create and share a meal is a great way to teach kids some kitchen skills and to share in fun and laughter.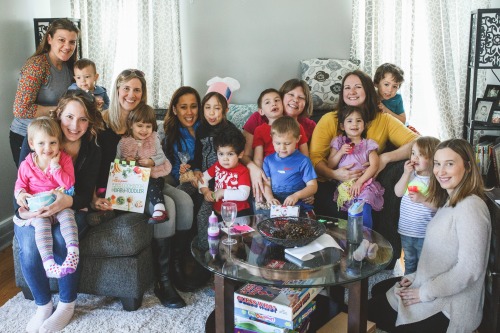 This article is sponsored by Happy Family, which provided product and compensation in exchange for this event and article. All opinions are my own. Photography by Shelley Torgerson Photography, who specializes in family photojournalism photography with a focus on the everyday moments of motherhood that go by all too quickly. Visit Shelley Torgerson Photography online and on Facebook and Instagram. Is your business interested in having a Macaroni Kid party? Contact us at karene at macaronikid dot com!