So, I happened to walk into a Pinterest board come to life last week while out in Ferndale. At least, that's what it felt like to walk through the door of AR Workshop on Nine Mile Road. The newest place for crafting has a wall of chromatically-organized paints, a row of grey-and-teal aprons, quotes up on the wall, and long wood tables that are laid out with perfectly set-up craft supplies. It also has large windows and high ceilings for an airy, relaxed feeling. It's the giant craft room you might wish you had.

And that's the idea, according to the co-owner, Diana Vermeulen, who wants you to feel right at home when you come into create something special. An artist herself (in addition to being a busy mom of a 1 ½ and 3 year old), Diana is excited to empower everyone to be able to create display-worthy works through the easy-to-follow projects that AR Workshop sets up for guests. Diana, who runs the business with her husband, Aaron (the brother of the founder of the first AR Workshop in North Carolina, which is now franchising across the country), brings contagious enthusiasm to her work and a great energy to the studio space.

How it works:
AR Workshop blends DIY with expert instruction, so you are free to create home projects without fear of winding up with a Pinterest fail. You reserve a spot at a scheduled workshop, fill in any custom information during the online registration process, and arrive on site at time you selected to make your project. The workshops are totally hands-on – for instance, for a wall-hanging pallet, you distress the wood, nail it together, stain it (using a quick-dry, eco-friendly stain that has minimal fumes), overlay the custom stencil, paint it, and add the wall hanging components. If power tools are called for, they are right there in the studio, charged and ready to go. What you don't have to do is setup or clean-up, allowing you to simply have a stress-free and fun session where you leave that very day with something awesome for your home.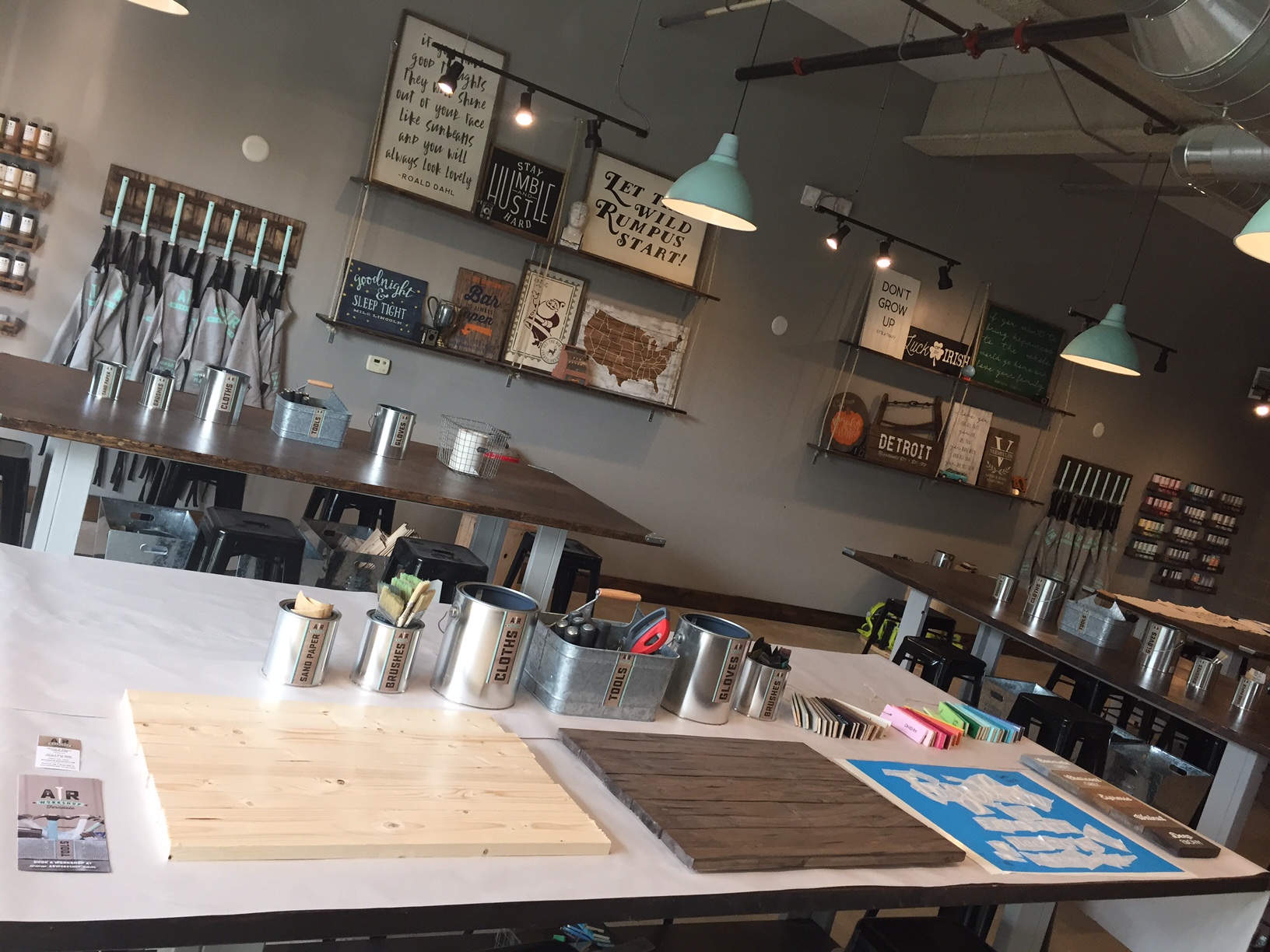 Who can go?
AR Workshops are great for individuals, groups (small groups can reserve a group of spots at a workshop; large groups can reserve private sessions), and even kids, depending on the project. Diana finds that kids even as young as 6, if they are patient, can really get into the projects (as long as, Diana cautions, parents step back just a bit to let their kiddo dive in). Some upcoming projects will be geared specifically toward kids, such as a trick-or-treat bag making session. The workshops make for a fun moms' night out, couples night out, or date night (and yes, you can bring along a bottle of wine!).

"The workshops are so great for just putting down your phone and not multitasking for awhile," says Diana. "Couples or families can work on a project together or work on two elements that are meant to hang side-by-side, or even work on separate projects but still be near each other."

If you have teens looking for work, AR Workshop is an opportunity to check out – they will be hiring teenagers to work on weekends, making it a job that can fit easily alongside school and activity schedules.

What can you make?
Workshops at this boutique DIY studio include custom wood signs, framed signs, canvas pillows, round signs, lazy susans, centerpiece boxes, tote bags, and more. Diana plans to add in hand-lettering classes and, eventually, digital photography basics, drawing from her own experience as a professional photographer. Projects range from $40-$65 including all materials.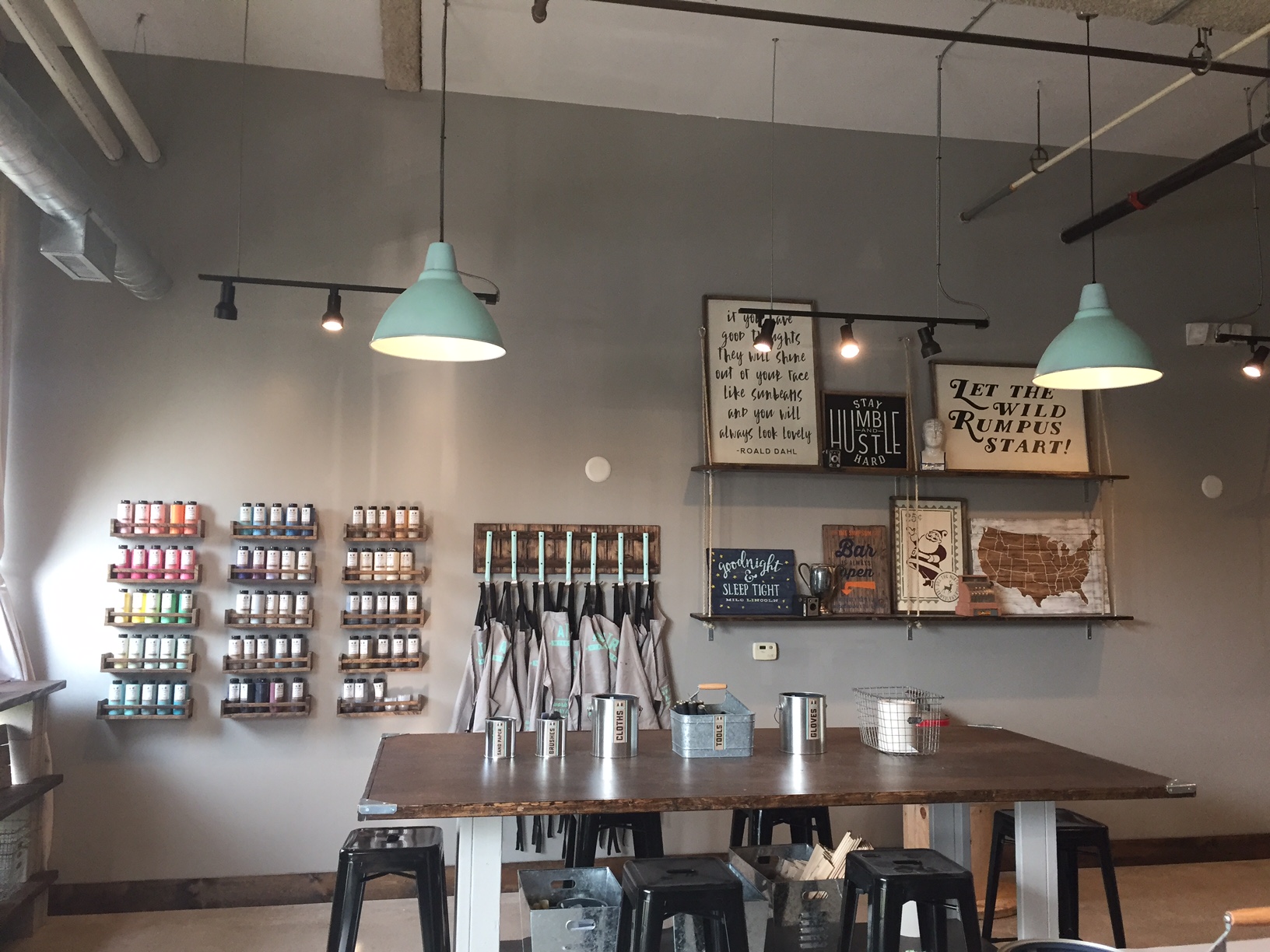 When can you go?
Workshops will typically be held in the evenings in 3-hour blocks from 6:30-9:30 p.m., along with some daytime hours one weekday and on the weekends. AR Workshop is also available for kid or adult birthday celebrations.

Do I have to be good at crafting?
Nope. If you are, you'll still love it, but if you aren't, the process makes everything pretty fool-proof.

AR Workshop officially opens on September 28 with a grand opening celebration. Giveaways, refreshments, and previews of upcoming projects will be on hand from 6-9 p.m. at 207 E. Nine Mile Rd. Follow them on Facebook at facebook.com/arworkshopferndale and on Instagram at instagram.com/arworkshopferndale, or give them a call at 248.733.4505.