For the last 10 years, Go Comedy! Improv Theater has been offering summer improv camps for kids of all ages. Each camp is a week long and focuses on improv basics and performance games with an emphasis on listening, teamwork, and support. Whether your child is interested in the arts, a class clown, or just looking to share a laugh with new friends, this camp is for them!
We offer elementary, middle school, and high school camps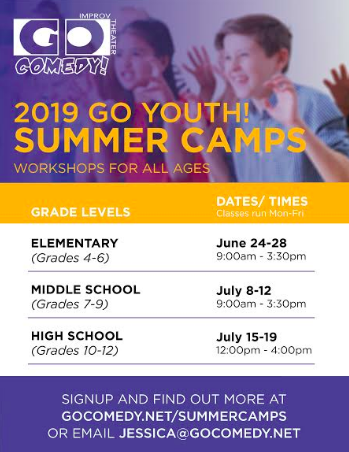 Elementary Camp (Grades 4-6) running June 24-28, 2019
Middle School (Grades 7-9) running July 8-12, 2019
High School (Grades 10-12) running July 15-19, 2019

Class runs Monday-Friday from 9:00a.m.-3:30p.m. for Elementary & Middle Schoolers, and 12-4PM for High School.

Cost for Elementary & Middle School camps is $275. For High School, it is $150.

Each camp concludes with a performance on Friday at 3pm, which is free to friends & family (and yes – the bar is open!).

All of our classes are held at Go Comedy Improv Theater, and taught by instructors with a background in children's theater.

For all of the camps, beverages and snacks will be provided every day. However, students should bring a lunch each day.

Except on Friday – we'll provide a pizza lunch!
We also offer classes for adults year-round, so please check out the website for details! If you'd like to check out a Go Comedy show first, we recommend our monthly Family-Friendly All-Star Showdown, the g-rated version of our popular All-Star Showdown. We offer this show at 4PM on the fourth Sunday of each month. Details & tickets here.
Visit us on Twitter and Instagram @GoComedyImprov